Asia Pacific Lacrosse Union
The APLU Website was launched on 14 February 2015 ~ Valentine's Day ~ what a great way to share the LOVE of LACROSSE around the world!!
This has been an exciting project to undertake, and sincere thanks are extended to Clark Marketing & Design for building the site and their commitment to excellence. Ernie Clark's past involvement as a State player for Western Australia ensured his understanding of the game and his love of lacrosse also!
Our grateful thanks are extended to all those who participated in the Auction held during the 2013 ASPAC Championship in Beijing. Not only did everyone have a lot of fun but we also raised the first ever monies for the Union, and it is part of these monies that have been used to design the website. This shall provide a great tool for the future development of our sport in the Asia Pacific region.
The benefits all members can now enjoy are outlined below and the Union looks forward to being on Social Media:-
Improved effective communication between the APLU and Member Associations (MAs) and lacrosse participants in the region
Information and promotion of lacrosse events and latest development in the region
An effective communication link with the Federation of International Lacrosse (FIL) as a regional governing body
Accessibility to information 24/7
Timely posting of information
Expansion of the APLU profile
Assistance with marketing and potential future sponsorship opportunities (Google Analytical Data set-up shall provide the Union with how many hits we are getting per month & from what source)
The creation of a one-stop information shop
Provision of a platform and link to social media where lacrosse players in the region can communicate and share their lacrosse experience and passion.
To ensure on-going success with these benefits your feedback and suggestions for improvement are always welcomed and valued. There is a contact form on the website for your use. Enjoy the site!
APLU President's Welcome
As the elected President of the Asia Pacific Lacrosse Union it is my pleasure to welcome you to the launch of the APLU website in conjunction with my fellow Executive Board Directors – Yas Hayakawa (Vice President), Albert Lai, Won Jae Park, Bill Hollins and Fiona Clark (Executive Director).
This is a significant step in progressing the development of lacrosse in the Asia Pacific region where boundaries are geographically defined by countries in Central, Eastern, Southern, South-Eastern and Western Asia, and in Australia, New Zealand, Melanesia, Micronesia and Polynesia. It is planned for this site to provide information, growth opportunities and support to lacrosse organizations and followers within Asia Pacific.
The APLU evolved from discussions in 2003 to its formation in 2004, held in conjunction with the inaugural ASPAC (ASia PACific) Tournament, in Adelaide South Australia, to become a regional body recognised by the Federation of International Lacrosse (FIL) and chartered with the challenge of developing the game of lacrosse in this region.
To oversee and manage the operations of the APLU an Executive Board (APLU EB) was elected, and key operational activities have included the creation and registering of the APLU Constitution in Australia, the development of a logo, the launching of a website and the introduction of membership fees to allow for on-going projects to help develop the sport, ensure the on-going viability of the governing body and to promote financial independence going forward into the future.
We all believe that we can, and must, develop the game of lacrosse in the Asia Pacific region. This growth requires guidance, vision, support, clinics (coaching and officiating), competition events and continued FIL synchronisation. In the long term domestic and inter-regional competition will strengthen all APLU member's capabilities and operations. Improved performance shall provide the platform to compete competitively on the international stage in FIL world events whilst supporting the FIL's #1 goal for lacrosse to one day become an Olympic sport.
The Asia Pacific region covers a vast geographic area, and whilst this challenge is different to those from lacrosse playing nations in Europe and the Americas it can be overcome. We are fortunate to have similar time zones and a choice of regular flight travel paths. Whilst English is our universal language of choice, and lacrosse our chosen sport, we recognize our multi-culturalism and value the opportunities we encounter to share and learn from each other's way of lives, and we also recognise the need for any local country's language to be permitted to be used for the introduction, education, operation and administration of lacrosse in that country.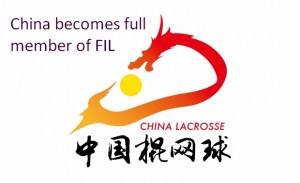 Fostering good communication with Members is essential to the success of this website. We welcome your input, feedback and comments. Once established the only way for this website to grow and fulfil its purpose is by sharing information and your input is valued. The APLU shall continue to build partnerships, acknowledging that working together creates greater opportunities for everyone. We are committed to this resolve, and look forward to working with you all in the future. Lacrosse is a truly exciting game for participants and spectators and we welcome your support in projecting this message and promoting its activity throughout the Asia Pacific region in the future.
Yours in APLU lacrosse,
Mike Slattery