HONG KONG OPEN 2018
---
The countdown is on for the 5th Hong Kong Open for 2018 with the first matches starting on the 28th April.
The tournament will take place at two locations. The first two days (April 28th & 29th) will be held at the University of Hong Kong – Stanley Ho Sports Centre and the last two days (April 30th & May 1st) at King's Park Sports Ground. The event will include 10 Men's teams, and 8 Women's teams. In addition to the tournament social events will be organized for fun both on and off the field.
There will be 2 men's teams representing Hong Kong and two women's teams. Other teams participating are Beijing Sports University, Korea, Taiwan, Siam, Tropic Thunder, Singapore, Team JJ and Shanghai for Men. The other 6 teams for Women are: China, Euhreuns, Vasallo, Hokkaido, Shanghai and Singapore.
Event organizer HKLA stated "Hong Kong Lacrosse Open this year introduced the youth festival tournament. While maintaining HKO to be one of the most competitive tournaments in the region, we would also like to promote participation, in particular youth participation."
Apart from teams in the Asia Pacific region competing there will be an international focus with Officials from Japan, England, Australia, Canada, New Zealand, Germany, Netherlands, USA and Hong Kong participating, including Referee-in Chief Dennis Cheng, and Umpire – in – Chief Joyce Tai.
The APLU applauds the Hong Kong Lacrosse Association on again hosting this event and APLU Executive Director Fiona Clark looks forward to joining fellow Lacrosseurs in Hong Kong and witnessing the development of the sport in the region.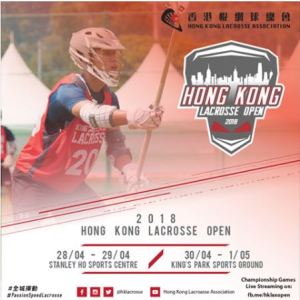 FaceBook
---
Website
Fostering good communication with Members is essential to the success of this website. We welcome your input, feedback and comments. Once established the only way for this website to grow and fulfil its purpose is by sharing information and your input is valued. The APLU shall continue to build partnerships, acknowledging that working together creates greater opportunities for everyone. We are committed to this resolve, and look forward to working with you all in the future. Lacrosse is a truly exciting game for participants and spectators and we welcome your support in projecting this message and promoting its activity throughout the Asia Pacific region in the future.
Yours in APLU lacrosse,
Mike Slattery